WOB-L Pump 2546, 38 l/min, 80 mbar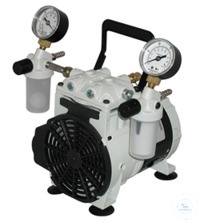 The picture may be different from the article and can include supply, which is not in the standard scope.
Order-No.: U2546C02
Price on request
for 1 piece plus VAT (25%) plus shipping costs
The WOB-L® 2546 dry piston pumps is a reliable partner for physical applications, notably with aqueous solutions. Being a vacuum pump and compressor, it can be used for a wide variety of applications such as filtration, gas sampling, vacuum drying, desiccation and automation technology. The integrated vacuum and pressure gauges and regulators allow the pressure to be continuously monitored and adjusted. The inlet liquid trap with automatic flow stop protects the pump. For use with dry or aqueous vapor applications only.
more
Accessories:
404008

Vacuum filtration & desiccation kit - hydrophorb in-line filter and vacuum hose, for DN 6 & 8 hose adapter

404009

Pressure Filtration kit - vacuum hose DN8 (1.5m) and clamps
Spares:
Proizvođač:

WELCH

Article-No:

U2546C-02

Vrijedi do:

31.12.2021

Last Update:

31.12.2020
Alternative articles: