Solvent pump foot operated w/ d. hose/stopc., 95cm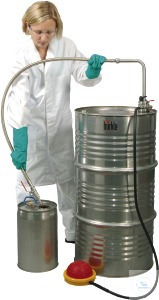 The picture may be different from the article and can include supply, which is not in the standard scope.
Order-No.: 56033000
Price on request
for 1 piece plus VAT (25%) plus shipping costs
Barrel pump for solvents with discharge hose and stopcock made of stainless steel/PTFE. Solvent pump foot operated for filling off high purity liquids such as solvents.
Pouring flammable liquids
All medium-contacting parts are made of stainless steel AISI 304 (1.4301) and PTFE. The Bürkle anti-static set can be used to ground the pump for dispensing flammable liquids so that no electrostatic charge forms.
Protection against hazardous vapours
Due to the barrel screw joint and the stopcock, the container and the pump can be hermetically sealed. So that no dangerous vapours can escape after dispensing. This protects both health and the environment.
Sturdy and practical design
The solid, durable industrial version of the solvent pump ensures a long service life. The pump works according to the overpressure principle. An excess pressure is built up in the tank with the foot actuator, forcing the liquid out of the container. Easy foot operation of the pump with foot actuator leaves both hands free for dispensing. The air hose can be quickly and easily connected and disconnected with the practical clip connection.

Immersion tube can be steplessly adjusted to the barrel depth

For barrels up to 220 litres

Suitable for steel barrels with R 2" thread

Thread adapter for commercially available containers and air filters for ultra-pure drawing-off available as accessory



When withdrawing flammable liquids, the barrel and pump have to be grounded! Use Anti-static set!
more
(-) Technical data:
Sterilnost:
No
Netto masa:
4,3975 kg