Solvent pump hand operated, 60 cm, 2" fine thread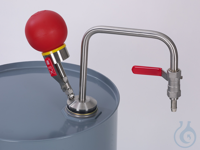 The picture may be different from the article and can include supply, which is not in the standard scope.
Order-No.: 56031000
Price on request
for 1 piece plus VAT (25%) plus shipping costs
Hand-operated solvent pump for contaminationfree removal of organic solvents and flavouring agents. The hand pump works according to the overpressure principle. An excess pressure is built up in the tank with the pump ball, forcing the liquid out of the container.
Pouring flammable liquids
All medium-contacting parts are made of stainless steel AISI 304 (1.4301) and PTFE. The Bürkle anti-static set can be used to ground the pump for dispensing flammable liquids so that no electrostatic charge forms.
Gastight version
The pump can be completely closed off with the two ball valves so that no dangerous vapours can escape after dispensing.
Suitable for different containers
The hand pump is suitable for containers up to 60 litres. The solvent pump for tinfoil canisters has a connector thread for pull-out spouts.

Medium-contacting parts made of stainless steel AISI 304 (1.4301) and PTFE

Rigid discharge tube with stopcock made of stainless steel/PTFE

Suitable for containers with R 2" thread

Thread adapter for commercially available containers available as accessory



When withdrawing flammable liquids, the barrel and pump have to be grounded! Use Anti-static set!
more
(-) Technical data:
Sterilnost:
No
Netto masa:
2,052 kg
Accessories:
56021000

Anti-static set in case (3 copper cable w/ clamps)