Anti-static set in case (3 copper cable w/ clamps)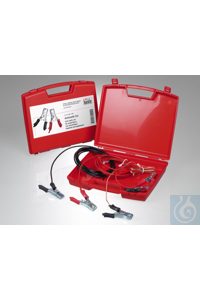 The picture may be different from the article and can include supply, which is not in the standard scope.
Order-No.: 56021000
Price on request
for 1 piece plus VAT (25%) plus shipping costs
When decanting flammable liquids without the machines and containers involved in the process being sufficiently earthed, electrostatic build-up can occur, which for many substances can result in fire or an explosion.
Bürkle's Anti-static set ensures easy and reliable earthing.
The Anti-static set consists of three colour-coded connecting copper cables with clamps in a handy plastic case.


more
(-) Technical data:
Sterilnost:
No
Netto masa:
500 g
Proizvođač:

Bürkle

Article-No:

5602-1000

Vrijedi do:

31.01.2022

Last Update:

31.01.2021