Stainless steel barrel pump w/discharge tube, 57cm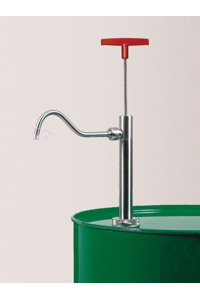 The picture may be different from the article and can include supply, which is not in the standard scope.
Order-No.: 56010500
Price on request
for 1 piece plus VAT (25%) plus shipping costs
Barrel pump made of stainless steel with discharge tube.
The Bürkle barrel pump made of stainless steel AISI 304 (1.4301) is suitable for filling combustible and easily flammable liquids. The barrel pump can conduct electricity and therefore fulfills the requirements for handling flammable liquids in combination with the accessory antistatic set.
The PTFE gaskets ensure long-term and maintenance-free use. Pumping capacity approx. 9–22 l/min, dependent on pump length.
The wide range of accessories makes it possible to adapt the pump to very different requirements.

Removable discharge tube

Immersion tube Ø 32 mm



Not suitable for acetone!

When withdrawing flammable liquids, the barrel and pump has to be grounded! Use Anti-static set!
more
(-) Technical data:
Sterilnost:
No
Netto masa:
1,9685 kg