Profi Sampler Aluminium, complete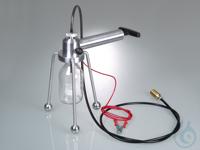 The picture may be different from the article and can include supply, which is not in the standard scope.
Order-No.: 53051100
Price on request
for 1 piece plus VAT (25%) plus shipping costs
ProfiSampler aluminium for solvents and flammable liquids in Explosion Categories IIA, IIB and IIC. With bottle thread GL 45 (suitable for Schott glass bottles 100 ml to 1000 ml).
When taking samples of flammable liquids, the device must be earthed. For this, earthing cable and, possibly in addition, anti-static set should be used, see accessories.
ProfiSampler aluminium, consisting of: Vacuum pump made of aluminium, with feet, venting valve and bottle thread GL 45 with glass bottle 500 ml, 5 suction tubes PA black, 220 cm long, electrically conductive, hose cutter, brass hose weight, 20 seal-it bottle seals, earthing cable.
While the MiniSampler is designed for laboratory use, the ProfiSampler has been specially developed for rough industrial use.

Applications

Sampling liquids in barrels, tanks, lorries, railway goods wagons, ships, water courses, ground water, etc.
Vacuum samplers have the advantage that the sample liquid only comes into contact with the suction hose and the original sample bottle. The possibility of cross-contamination is greatly reduced. Immediately after taking the sample, the bottles are sealed. The disposable suction hose can quickly be replaced. This guarantees that the samples are always authentic. If necessary, a new hose can be used for every single sample.
Due to its small diameter (8 mm), the hose can reach narrow, seemingly inaccessible sampling areas.
The ProfiSampler can be extended with useful accessories developed in practice.

Three feet guarantee that the ProfiSampler stands safely

Fill level control, automatic return flow and overfill protection through built-in venting valve

Available with suction hose in PE, PA and PTFE wherever the highest degree of purity is required

Can be supplied with straight suction tubes for simpler sampling, incl. transport case for tidy transport and disposal of the suction tubes

Suction volume 200 ml, suction pressure 0.5 bar

Suction height from liquid surface 5 m WS

Sample bottles available in different materials and sizes



Attention! Make sure to pay attention to the "List of Chemical Resistance"!
more
(-) Technical data:
Sterilnost:
No
Netto masa:
3,989 kg